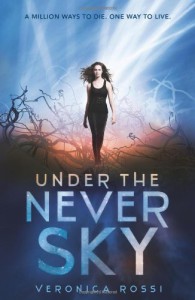 Reread May 2016 - still love this book, I need it to be a movie series already
Ok, here we go.
Under the Never Sky is fantastic. It's a brillant idea that is well written with relatable characters.
There is no insta-love. No whiny chick (Aria was pretty kick arse), and no soppy male love interest. I loved Peregrine. He was his own person, not just there to inspire the romance factor.
After watching the book trailer, it annoys me that they focussed on that. I hope to god if there is a movie (which there should be), they don't let those people make it.
Anyway. Contemplating reading this book? Do it. I loved it, and once I started reading in earnest, I couldn't stop. Can't wait to get my hands on the next one.